How to Decorate a Big Blank Wall
Figuring out how to decorate a big blank wall in your home can be intimidating, Whether it's a large wall in a living area or the space above a bed, finding the right solution that looks natural and expresses your personal style is not always easy. Today I wanted to show you a few ways I have decorated large empty walls in my home that might give you some solutions for your spaces.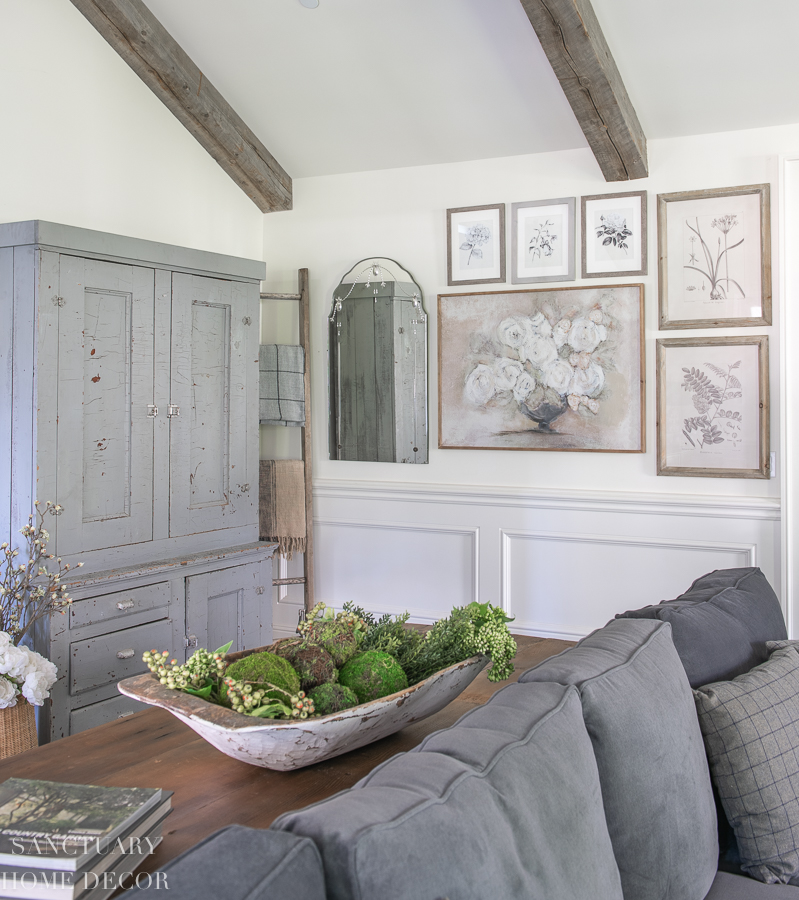 This post contains affiliate links.
ONE LARGE PIECE OF ART OR ARCHITECTURAL PIECE
Perhaps the least complicated solution to fill a large empty wall is to use one large piece of art or an architectural piece that can be hung on a wall.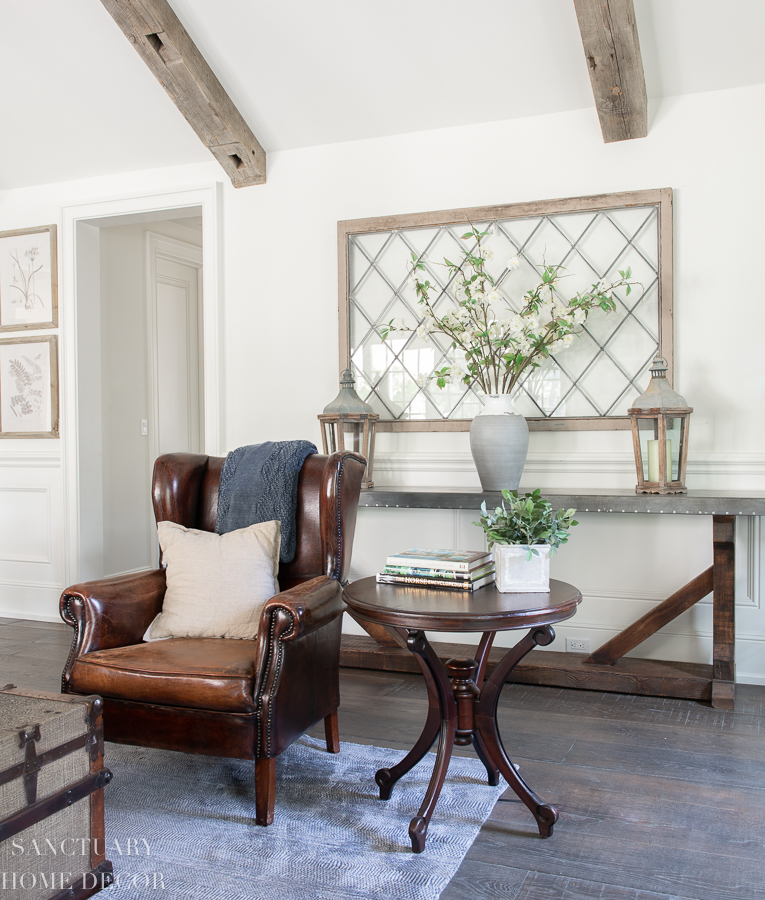 In our family room, I hung a vintage leaded glass window above a console table to add some texture and interest without making a big color statement. This allowed me to fill in the wall in a very neutral way and still add other artwork around the room without it looking too busy or cluttered.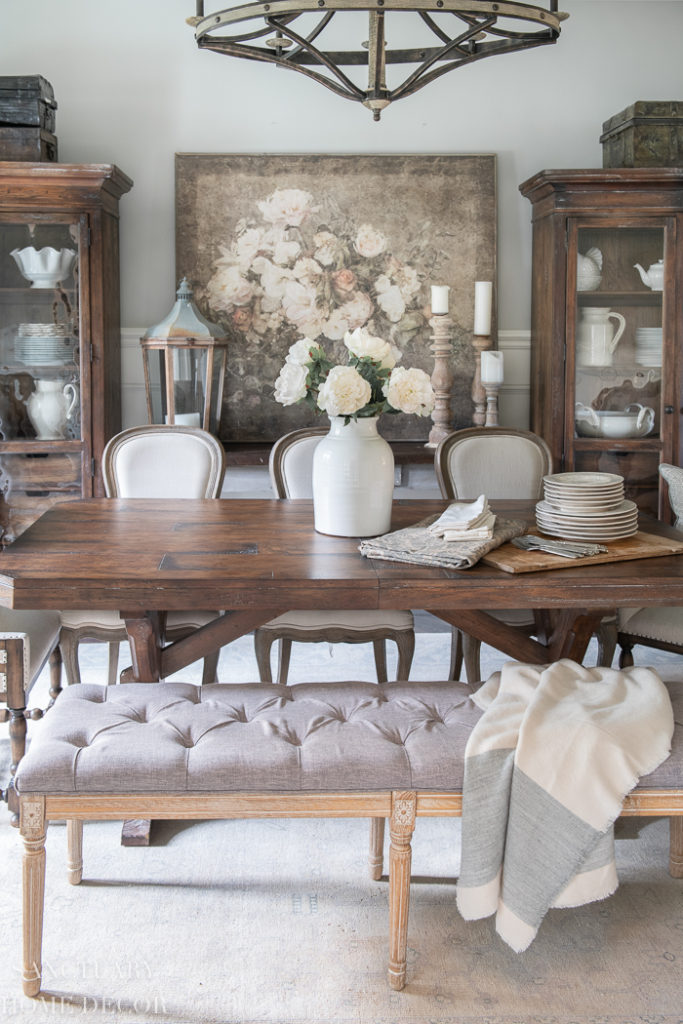 I went for a much more bold choice in our dining room, placing a large floral print on the blank wall between the wood cabinets. This piece of art makes a big statement in the room and defines the style, while not being overwhelming or stealing the show.
See more of my dining room and details about this art piece HERE.
LAYERS OF ARTWORK AND DECOR
If you are decorating a wall with a table below it, consider layering pieces to get a more three-dimensional effect.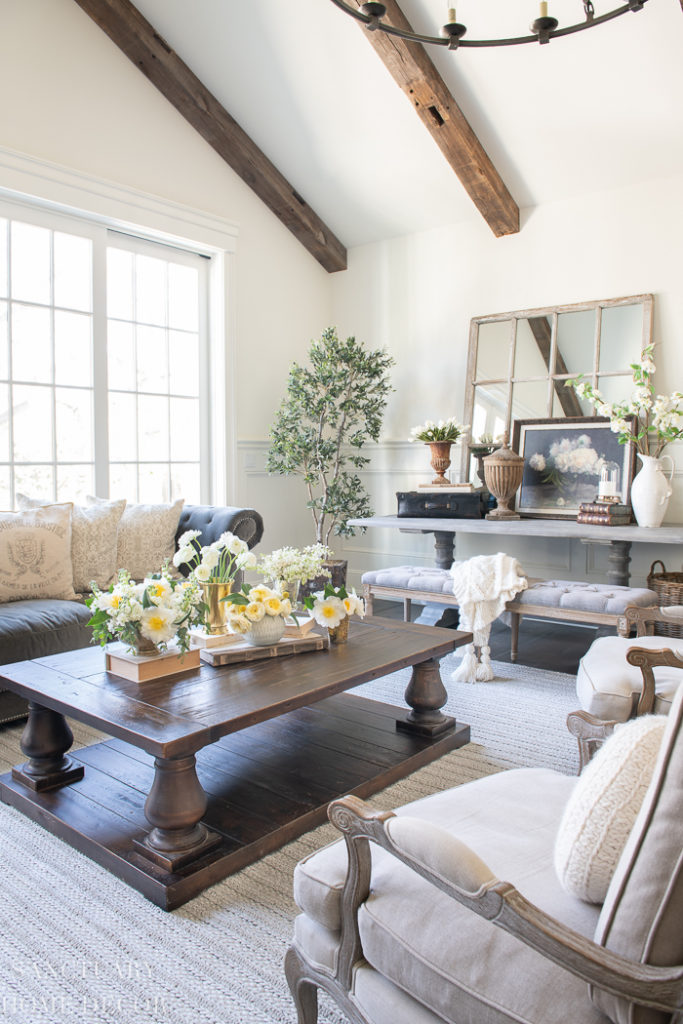 Oversized mirrors are wonderful solutions to decorate big blank walls and are a great base for a layered look. In our living room, I placed a mirror and a favorite smaller painting on a table to add texture to the wall while still allowing me to decorate with florals and other decorative pieces around it. In this case, I did not hang the mirror, but it could be hung, low above the table.
See more of this look in my LIVING ROOM HERE.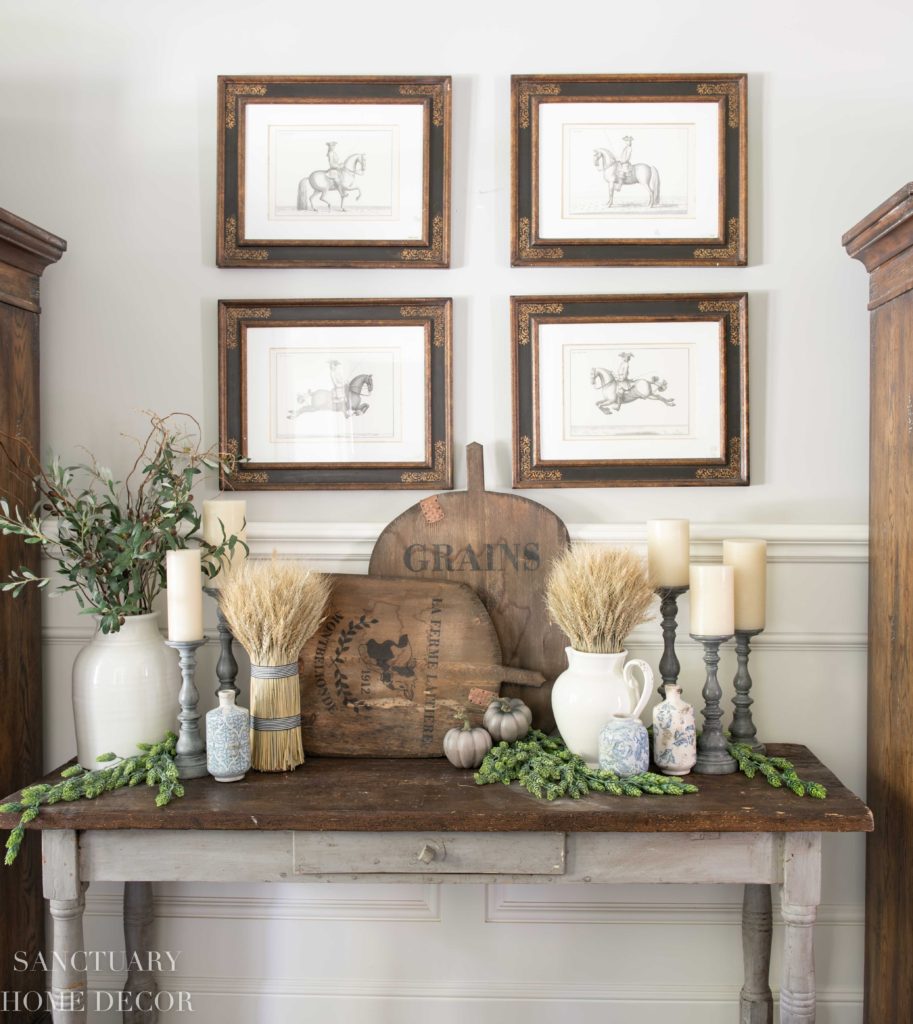 Remember that wall in our dining room with the large floral art piece? Well, this is the same wall with a gallery of four art pieces and layered decor on the table below it. I love to use wall decor as the base for a beautifully styled table. The key here is to add decorative elements that are tall enough to relate to the artwork on the wall and give it a cohesive look.
A SIMPLE GALLERY WALL
My favorite way to decorate big blank walls is to create a gallery of artwork or prints that have the same theme and matching frames.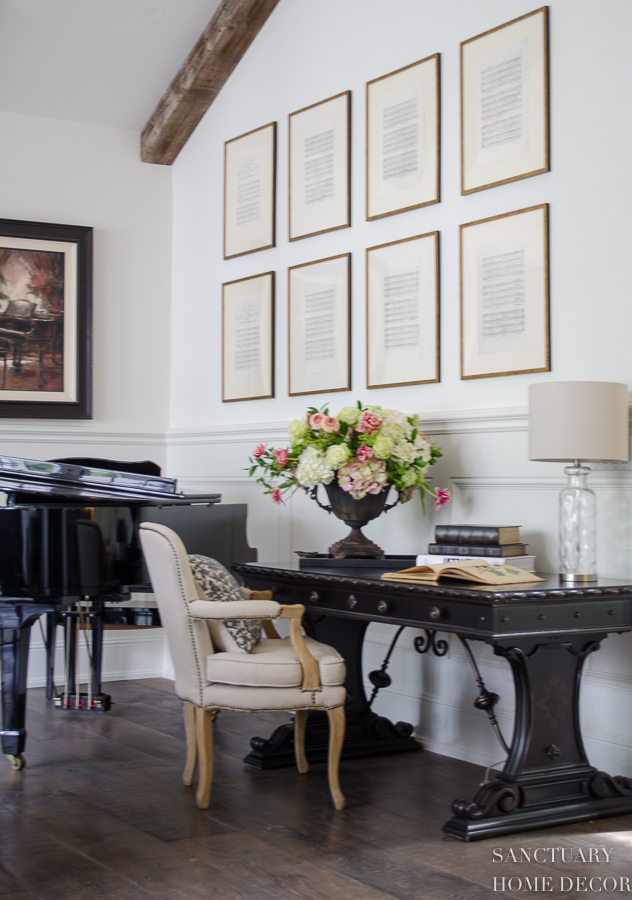 On the oversized wall in our living room, I used framed sheet music to fill in the wall above the piano. Eight smaller pieces of art come together to form one large art piece.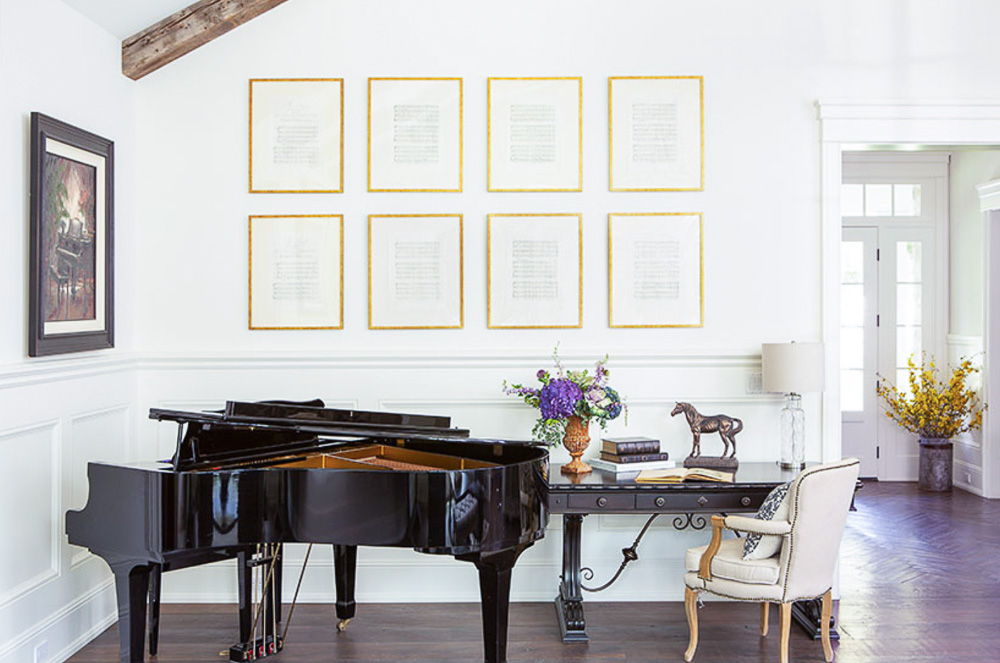 On my office wall I achieved the same look using six botanical prints with the same frame to create one large art piece.
The key to this look, is for the frames to be the same size and color and the artwork to be similar in theme, color or style.
You can see my favorite Resources for Botanical Art HERE.
See more of my HOME OFFICE MAKEOVER HERE.
AN ECLECTIC GALLERY WALL
An eclectic gallery wall can mix artwork, mirrors, prints and hanging decor for a cohesive and fun look.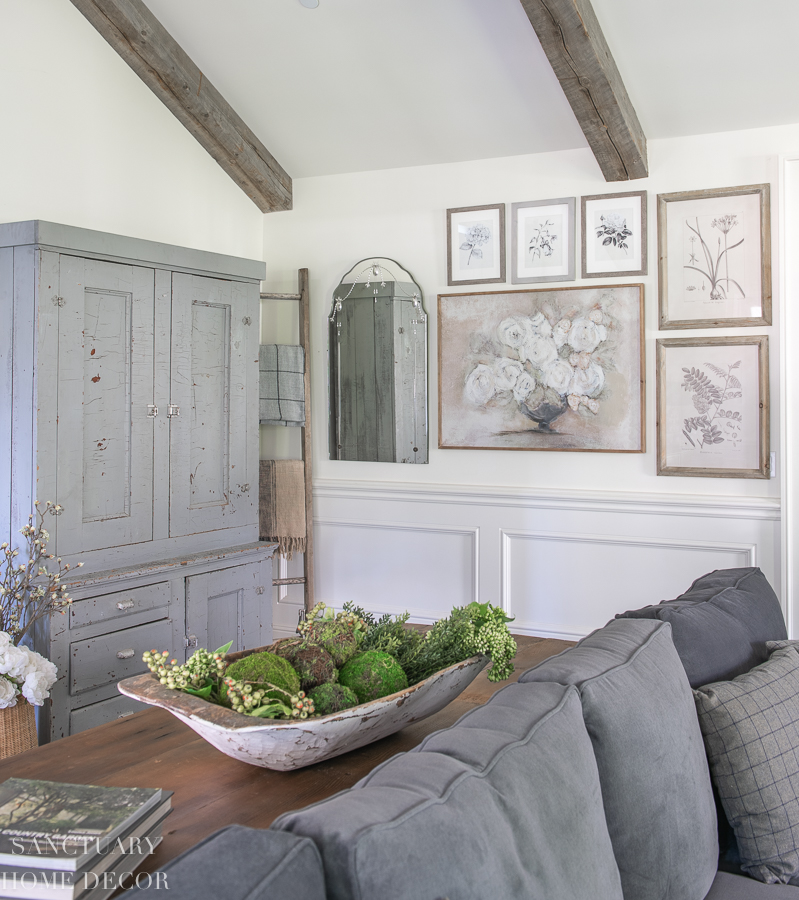 The walls in our family room are difficult to decorate because of the doorway that divides the space. My solution was to use a neutral architectural piece (the leaded glass window) on one side, with a console table below, and to create an eclectic gallery wall on the other side.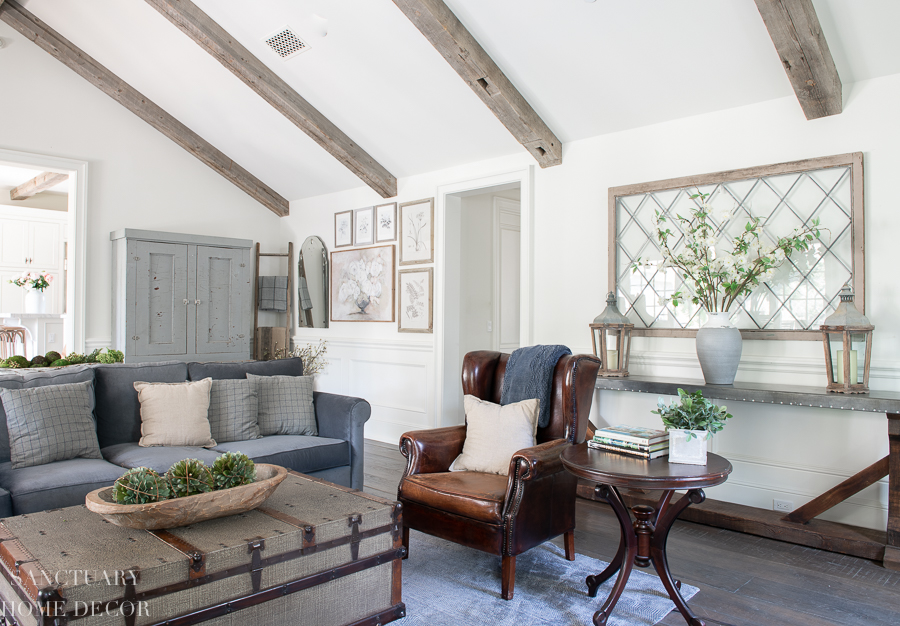 I was able to relate the two by keeping the frames and colors in the same tones so even though they are not on the same wall, they look cohesive.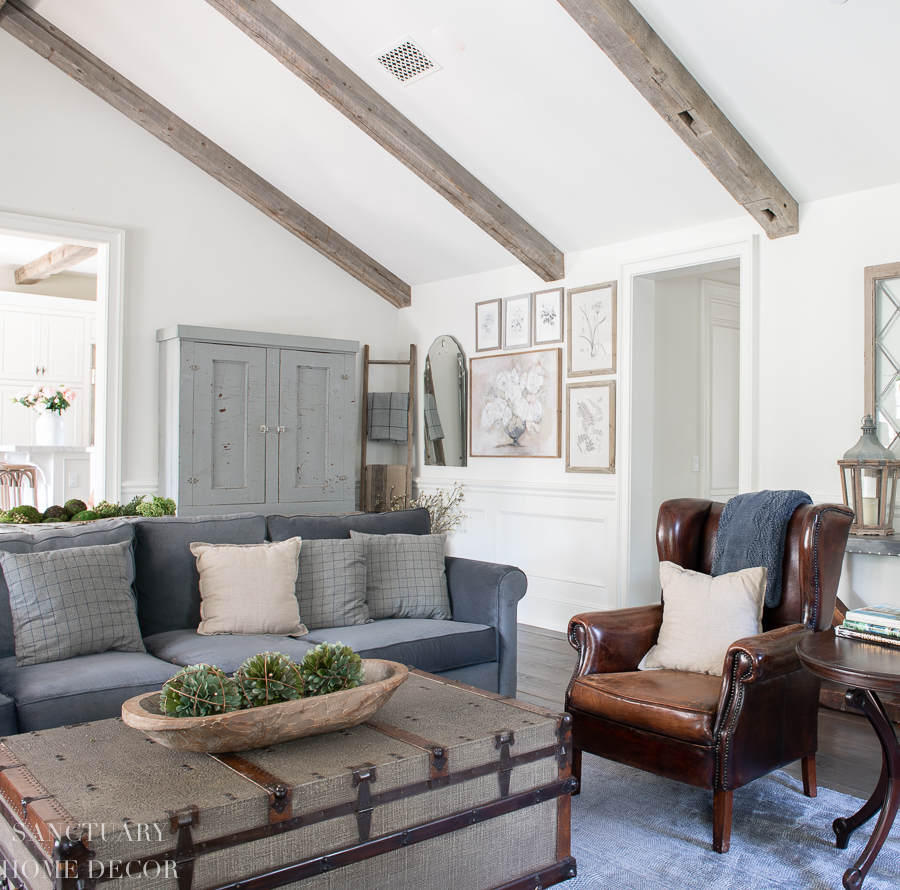 I also chose neutral artwork in that was not too bold to make sure it did not look off balance in the room.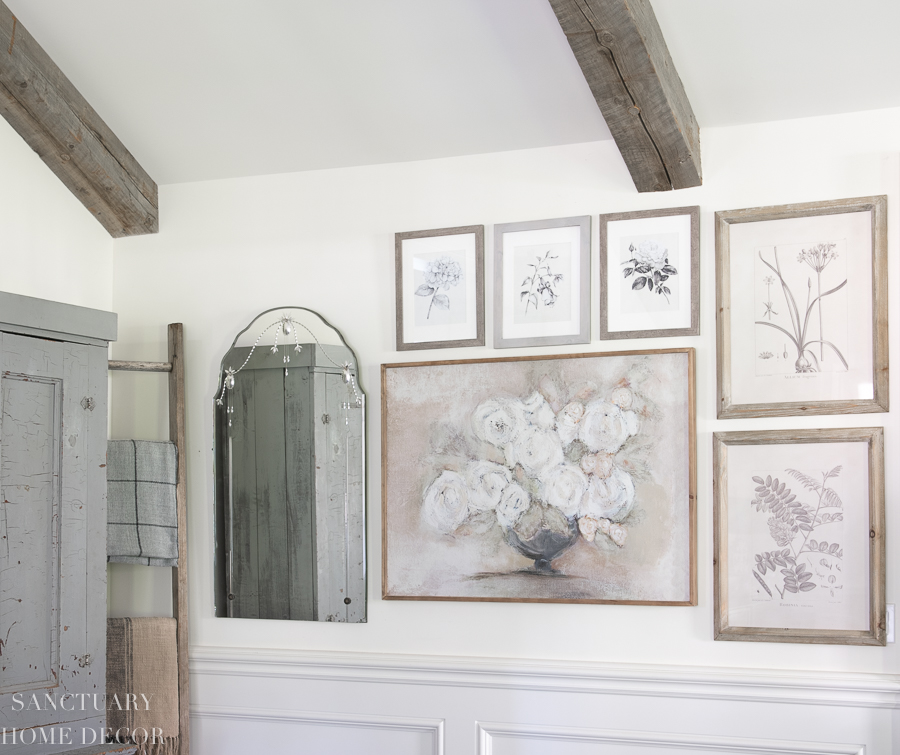 I decided to include a mirror that was given to me by a great aunt and has sentimental value.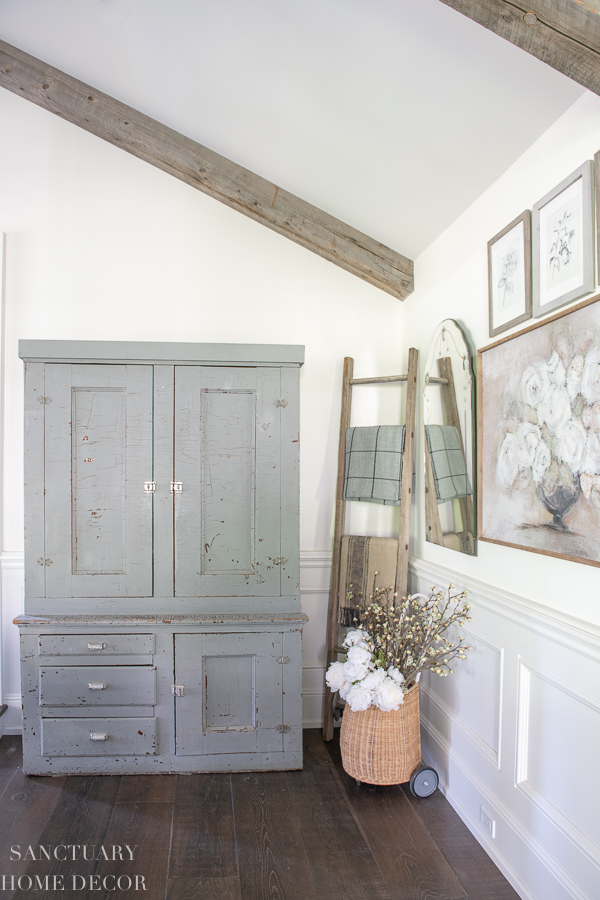 I love the way this turned out and how cozy this corner of the family room now feels.
POTTERY BARN has some great pre-designed eclectic gallery wall art HERE.
ARTWORK AND MIRRORS AROUND A BED
I always struggle to decorate the spaces around a bed but have come up with a solution that works most of the time. I have found that hanging one or more pieces of art directly above the headboard and then adding two matching mirrors or framed pieces above each nightstand fills in a wall nicely and give a balanced look.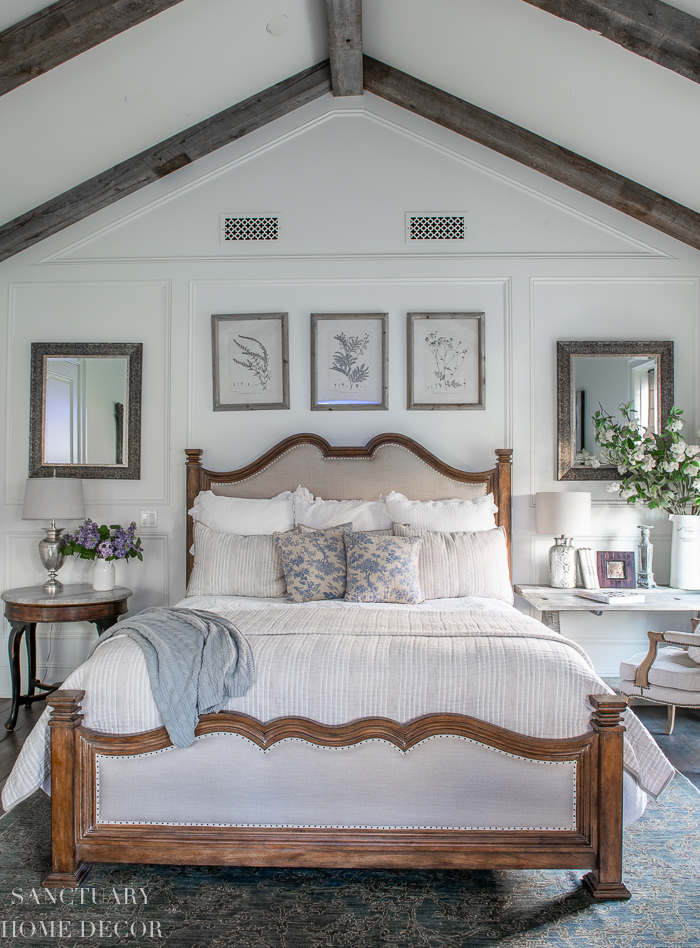 In our master bedroom, I hung three matching botanical prints above the bed and two matching mirrors above each nightstand.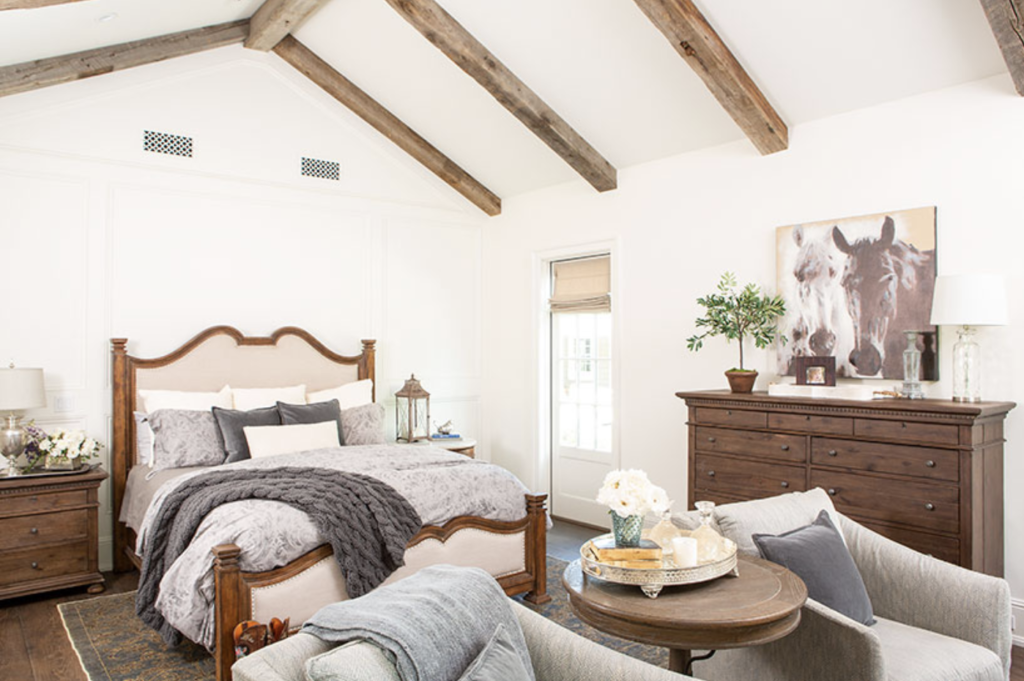 This made what was once a big blank wall look warm and complete.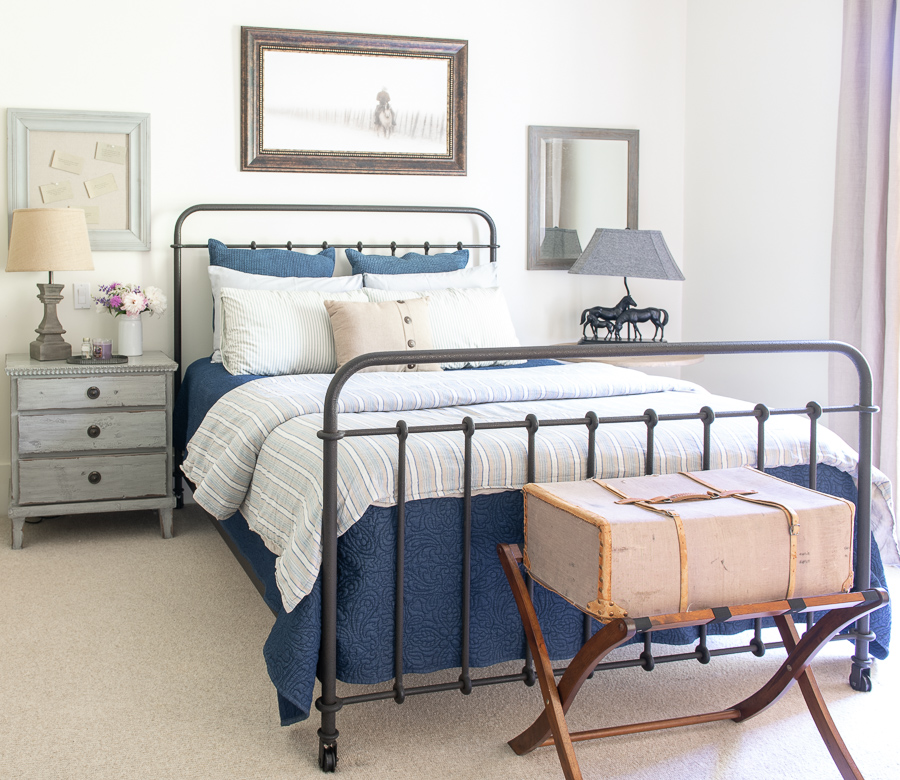 And in one of the guest bedrooms at the ranch, I hung a horizontal photo above the bed and then added a framed mirror on one side and a similarly framed pinboard on the other. This filled in the empty wall in a pretty but subtle way.
I hope this gives you a few ideas about how to decorate a big blank wall in your home. The key is to choose artwork, mirrors or decor that you love, first and foremost. Remember that you can paint or change frames to match your decor or make a gallery wall look cohesive if necessary.
Happy decorating my friends!
---